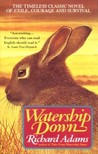 Watership Down by Richard Adams
My rating: 5 of 5 stars
What can I say about Watership Down… It is my favorite book in the entire world. Why you may ask? Isn't it just about bunnies? Yes, Watership Down is about a group of rabbits, but it is so much more than that.
WD is about friendship, conquering the odds, standing up for what you believe in, and believing in the impossible. WD is a lovely piece of fiction that I've read every year since 2010. It's a dynamic, creative story about a stubborn group of rabbits who face down some pretty horrific situations and events at times. The characters have unique personalities and quirks that make them believable (even if they're bunnies).
The story itself is full of interesting perspectives, unique voices and beautifully written tales about the "rabbit world". The book is a beautiful piece of fiction, and age appropriate for the whole family who will all understand different pieces of the message.
I recommend Watership Down to ANYONE who likes to read.